Overview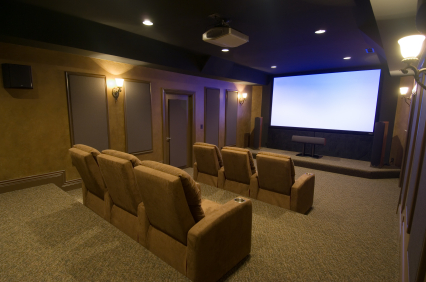 Audio visual systems come in many shapes and sizes and can be designed to suit any project. From a simple installation to a dedicated home theater to a whole home distributed audio visual system, Advanced Electronics Integration (AEI) can produce and control any level of audio visual system.
A home theater can include any level of features to deliver an enhanced viewing and listening experience. The Living or Family Room can be transformed with full surround sound, a HD TV, and upgraded sources. A more advanced, dedicated home theater can involve much more to create the ultimate home theater experience. Any home theater package will enhance movie viewing, music listening, and video gaming activities.
A distributed audio visual system enables audio and video source sharing throughout your home or office. Shared sources, such as DVD players, iPods, and CD players can be heard and controlled in any room, or in all rooms simultaneously. Other sources can be dedicated to a single room. If desired, sources can also be available globally, yet dedicated to a single user. AEI will work with you to determine which sources should be shared and how you would like your system to function.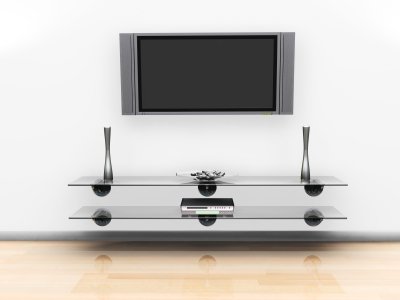 Audio visual components that don't require interaction, such as amplifiers and receivers, can be located in remote locations to preserve space and improve aesthetics throughout your home. Only components that require physical interaction need to be accessible, including DVD players, CD players, and game consoles. Other components can be hidden in a closet or mechanical space to create a clean and professional appearance for your home or office.
A custom remote control can be used to integrate all of your audio visual components. Say goodbye to the pile of remote controls on your coffee table or nightstand. Source selection buttons will command multiple components with a single button press. The same remote control can also control other integrated devices such as lighting and shades.
Benefits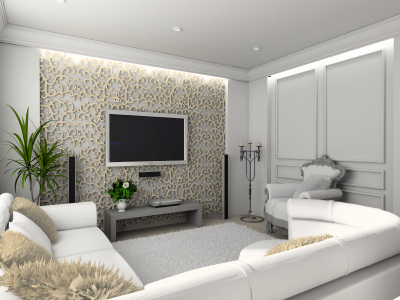 Transform the way that you entertain yourself and your guests with a whole home distributed audio visual system from Advanced Electronics Integration (AEI). Distributed audio / video involves feeding audio and video sources to speakers and TVs throughout your home or office. Shared sources, such as DVD players, iPods, and CD players can be heard and controlled in any room, or in all rooms simultaneously, providing the ultimate home entertainment experience for you and your guests. Pleasant ambience can be achieved quickly with background music played in any areas desired. Exterior audio will enhance any outdoor activity. Carry out household chores without missing a single scene of your favorite TV show.
Hidden audio visual equipment preserves space and improves aesthetics throughout your home. Components that don't require interaction, such as amplifiers and receivers, can be located out of sight in cabinets, closets, or a mechanical space. Equipment will be installed cleanly and professionally so that your equipment areas will be a must-see feature to be included when your guests tour your home.

Eliminate the clutter caused by piles of factory remote controls by integrating all of your audio visual components with a custom RTI remote control or touch panel. Source selection macros control multiple components with a single button press. Selecting the DVD source will turn on the TV and A/V receiver, switch them to the correct inputs, and begin DVD playback simultaneously. Your remote control can also be programmed with shortcut buttons to quickly tune your TV and satellite radio to your favorite channels.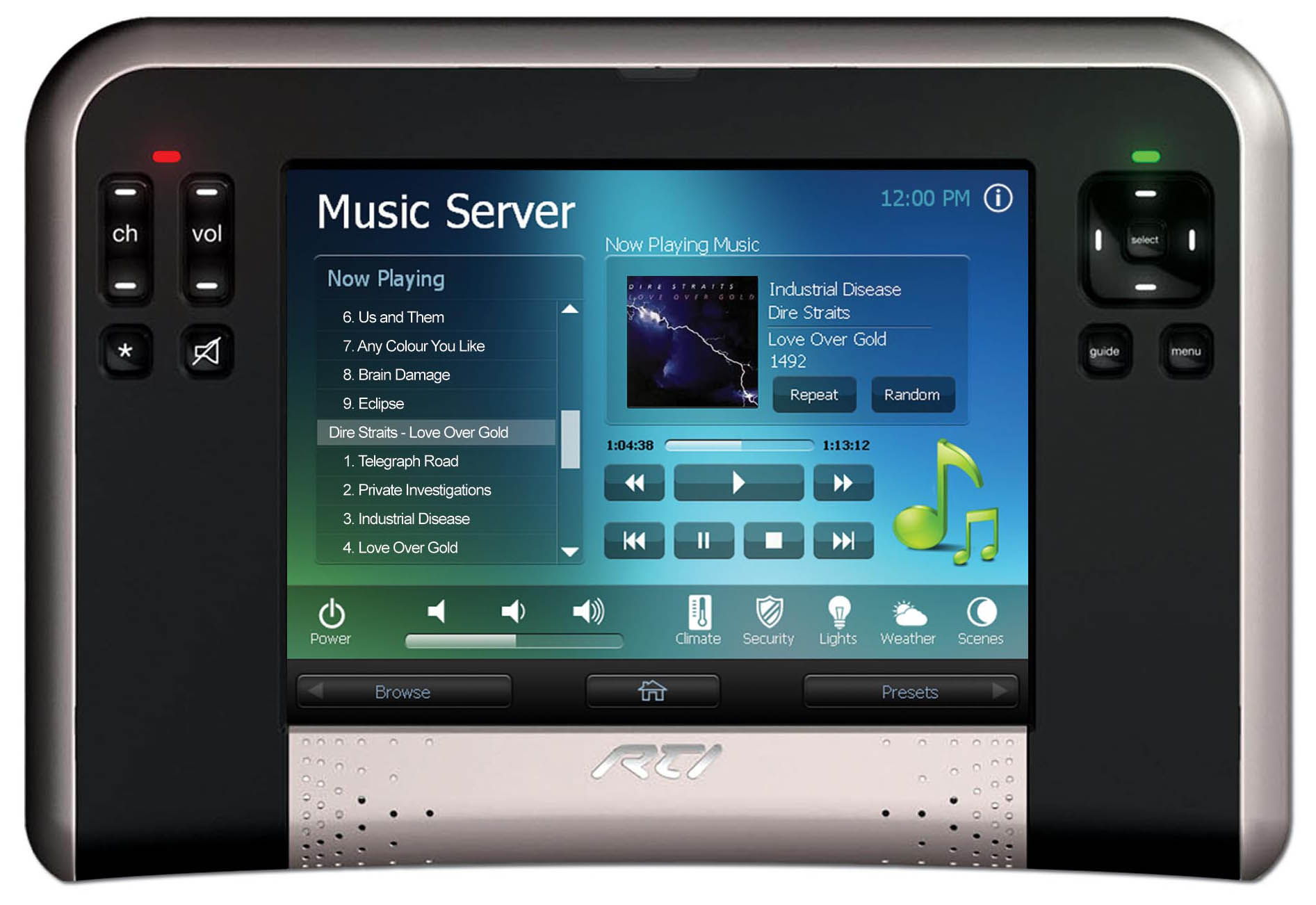 Integration allows custom control, monitoring, and automation of your audio visual systems. Metadata and other feedback information can be displayed on remote controls and touch panels. An incoming phone call can automatically lower the TV volume so that you can quickly answer the phone. A single button can activate an Entertain scene which sets lighting, shades, and background music for a party.



Solutions & Equipment
A basic home theater can simply include surround sound and a proper video display to simulate a movie theater experience. The video display can be a flat screen TV or a video projector and projection screen. Any room can be setup as a basic home theater.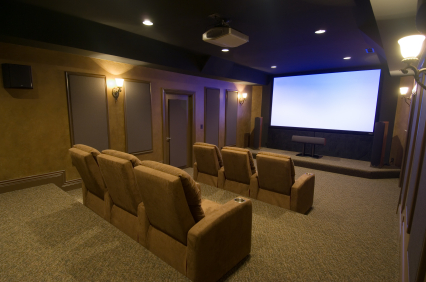 A dedicated home theater can involve much more than just audio and video components. A dedicated room is structurally optimized for audio and video quality using appropriate materials, assembly methods, and features. The walls, floor, and ceiling are designed to absorb and reflect audio and video wavelengths for proper sound and image reproduction the way that the music and movie producers intended. Tightly sealed doors and windows combined with proper wall, floor, and ceiling design create a soundproof enclosure so that other occupants of the house are not disturbed. Proper furniture and seating improves comfort and viewer experience. Proper lighting in the room will provide enough light to navigate through the room without disrupting video image quality. A dedicated home theater doesn't just replicate, but can actually surpass the movie theater experience.
A distributed audio visual system provides audio visual source sharing capabilities. Switchers route source audio and video signals to speakers and TVs located throughout your home to enable source sharing. An iPod docked in the Living Room can be played throughout your home for entertaining, a blu-ray player located in the Family Room can be viewed from any TV, and a satellite radio tuner can be heard in each room so that you won't miss a beat as you move from room to room. With integrated control, source availability will be programmed as desired. Source selection can even be password protected for parental controls or privacy.
Audio visual sources are the components that process the various media formats and create the audio and video signals that are input into your TV, amplifier, or surround sound receiver. Sources include DVD players, satellite and cable TV, XM and Sirius satellite radio, CD players, Apple iPod, Apple TV, music and movie servers, game consoles, etc. Sources such as DVD players and CD players need to be accessible to the user, but the rest of these do not need to be accessible and can be hidden in closets and mechanical spaces.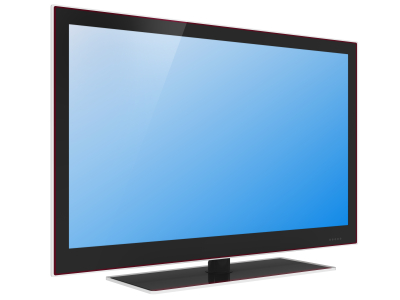 Video displays include flat screen TVs and video projectors. Today's high definition video displays deliver the highest quality video formats available. Flat screen TVs are typically used for screen sizes up to 65 inches. When larger screen sizes are needed, a video projector is the most effective solution providing a much more compact solution than a big screen TV. Video projection screens are available in a variety of sizes and mounting options to fit any application. A motorized projection screen retracts into the ceiling to be concealed when not in use, allowing any room to quickly transform into a home theater without degrading the room's everyday functionality.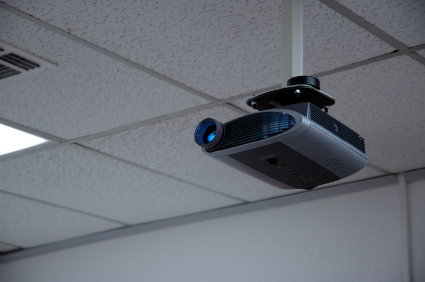 Video display mounts secure displays to the wall or ceiling to maximize space and aesthetic appeal. Mounts are availabe in many sizes and shapes to suit any application. An articulating wall mount will allow you to pull the TV away from the wall and angle it to the side and up or down to ensure that no matter where you sit, you will have the best seat in the house.
Video display motorized lifts make it possible to completely hide your TV, video projector, or projection screen inside of a cabinet, wall, ceiling, or floor. Maintain a simple, elegant appearance until you wish to use the video display. Astound your guests when your flat screen TV rises out of nowhere or when your Library transforms into a home theater at the touch of button.
Audio / video receivers, also known as surround sound receivers, process audio and video signals and distribute them to your TV and speakers. Receivers also switch between source inputs, acting as an audio / video switcher. A/V receivers incorporate some signal amplification and can be a simple solution for a single room installation or home theater.
Audio / video switchers route signals to the desired areas. Manual switchers are available, but the best experience is achieved when controllable switchers are integrated into the control system.
Amplifiers amplify the audio or video signals producing the highest quality signal delivery to speakers and video displays.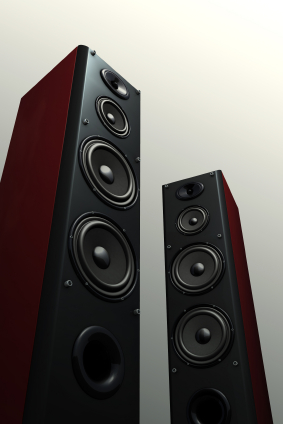 Speakers come in all shapes, sizes, and mounting options. Speakers can be flush or surface mounted on the wall or ceiling to preserve shelf and floor space. Bookshelf and tower speakers provide the highest quality of audio reproduction. Exterior speakers can be flush, surface, or pole mounted or they can be hidden amongst landscaping.
Subwoofers produce the low end bass frequencies for complete coverage of the range of audio frequencies. Subwoofers can be placed on the floor, hidden in a cabinet, or even flush mounted in the wall or floor.
 
Simple in-wall volume controls control speaker volume for simple audio zones that don't require a custom user interface. These volume controls are useful for areas such as a laundry room, hot tub, or walk-in closet.